Sonia La Felice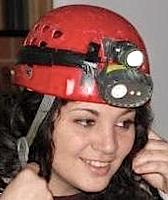 EDUCATION
2004 - Degree in Geology at University of Palermo (summa cum laude)
2009 - PhD in Geochemistry at Dept. of Chemistry and Physics of the Earth, University of Palermo, in collaboration with Laboratoire des Sciences du Climat et de l'Environnement (CNRS-LSCE), France
2009-2010 Postdoc fellowship at National Institute of Geophysics and Volcanology (INGV) - Pisa (Italy). Study of interaction between magmas with different volatile content, through compositional and textural analysis of products of recent activity of Stromboli"
2011- Senior technician of environmental monitoring and territorial management
2012-2022 Post-doc research grants at CNR IGG (National Council of Research-Institute of Geosciences and Georesources) of Pisa
2022 Researcher at CNR IGG (National Council of Research-Institute of Geosciences and Georesources) of Pisa
SCIENTIFIC ACTIVITY
Geochemistry and petrology of igneous rocks: crystal-liquid equilibria, mixing/mingling, shallow magmatic systems, magmatic processes and eruption dynamics
Geological mapping, volcano-stratigraphy and geochronology of volcanic sequences
Hydrothermal mineralization in geothermal areas
Rheology and emplacement modality of silicic magmas
Archeomagnetic dating of rock and furnaces for the reconstruction of the Geomagnetic Secular Variation Curve of the last 10 Ka
Microstratigraphic coring method to the reconstruction of paleo-environments.
AWARDS AND INVITATIONS
2009 – "A. Rittmann prize" for young researchers to the Conference A. Rittmann "The Italian Volcanology: current status and future prospects"
PROFESSIONAL ACTIVITY
Regional project LAMMA-CNR agreement for study volcanology and production of a monography of Mount Amiata volcano

Project VEGEO funded by the National Park of Vesuvius

Project: An alternative eruptive scenario at Vesuvius - (DPC-INGV 2012-2021. Project V1 –Vesuvio)

Dissemination: organization of seminars, exhibition and educational workshops
SELECTED PUBLICATIONS
La Felice S., Abebe T., Aquino A., Landi S., Lezzerini M., Principe C. (2019) - Geological and cultural heritage: Dissemination experiences in tuscany, Heritage, Volume 2, Issue 3, Pages 2171 - 2182, September 2019
Landi, P., La Felice, S., Petrelli, M., Vezzoli, L.M., Principe, C.(2019) - Deciphering textural and chemical zoning of K-feldspar megacrysts from Mt. Amiata Volcano (Southern Tuscany, Italy): Insights into the petrogenesis and abnormal crystal growth. Lithos 324-325, pp. 569-583
S. La Felice, D. Montanari, S. Battaglia, G. Bertini, G. Gianelli (2014) - Fracture permeability and water–rock interaction in a shallow volcanic groundwater reservoir and the concern of its interaction with the deep geothermal reservoir of Mt. Amiata, Italy. Journal of Volcanology and Geothermal Research 284 (2014) 95–105
S. Scaillet, S.G. Rotolo, S. La Felice and G. Vita-Scaillet (2011) - High-resolution 40Ar/39Ar chronostratigraphy of the post-caldera (<20 ka) volcanic activity at Pantelleria, Sicily Strait, Earth and Planetary Science Letters, vol. 309 Issue 3-4, 280-290
S. La Felice, P. Landi (2011) - The 2009 paroxysms at Stromboli: magma mixing and eruption dynamics, Bulletin of Volcanology, DOI 10.1007/s00445-011-0502-z