Luigi Piccardi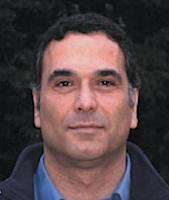 EDUCATION
1994 to present: Researcher, Consiglio Nazionale delle Ricerche - Istituto Geoscienze e Georisorse.
1993: Ph.D., Tectonics and Structural Geology, University of Florence.
1989: Professional Qualification (Geologist), University of Florence.
1988: Graduated, Geological Sciences, University of Florence.
SCIENTIFIC ACTIVITY
Structural geology, active tectonics and geodynamics, seismotectonics and earthquake geology, quantitative tectonic geomorphology, relationships between active tectonic structures and circulation of fluids.
Analysis and characterization of seismogenic structures, quantitative analysis of tectonic deformation, paleoseismology, archaeoseismology, historical seismology.
PROFESSIONAL ACTIVITY
Author or co-author of more than 60 international publications, 4 thematic geological maps, 30 national publications, and more than 90 abstracts/extended abstracts at congresses.
Guest Editor of Journal of Geodynamics (special volume "Active Tectonics of the Circum-Adriatic Region", vol. 51, Issues 2-3, 2011) and of Geological Society of London Special Publications ("Myth and geology", SP 273, 2007), co-editor of three more volumes (Arkos 2012, Acta Geodynamica et Geomaterialia 2005, Studi Geologici Camerti 2002).
Responsible of various international bilateral projects, national research projects and operative units.
Chairman (2003-2006) and vice-Chairman (2002-2003) of the ESF-COST Project "3D monitoring of active tectonic structures" (2003-2006).
Participant in operative units of several national and international projects.
Didactic activity in national and international institutions.
Organizer and director of the ESF-COST Training School "European Advanced School on Tectonics", at International Centre for Theoretical Physics, Trieste, April 18-22, 2005.
Reviewer of ISI international journals (Geology, Tectonics, Journal of the Geological Society of London, Journal of Geodynamics, Journal of Seismology, Terra Nova, Journal of Structural Geology, Archaeological and Anthropological Sciences, etc.), and national journals.
AWARDS AND INVITATIONS
Invited speaker at 23 both international (e.g., EGU, EGS, International Geological Congress, NATO Advanced Research Workshop; International INQUA Meeting) and national (e.g., Geoitalia, INGV Seminars) congresses and workshops.
SELECTED PUBLICATIONS
Livio F., Michetti A.M., Vittori E., Gregory L., Wedmore L., Piccardi L., Tondi E., Roberts G. and Central Italy Earthquake Working Group, 2016. Surface faulting during the August 24, 2016, Central Italy earthquake (Mw 6.0): preliminary results. Annals of Geophysics, 59, fast track 5, 2016; doi: 10.4401/ag-7197.
Di Manna P., Guerrieri L., Piccardi L., Vittori E., Castaldini D., Berlusconi A., Bonadeo L., Comerci V., Ferrario F., Gambillara R., Livio F., Lucarini M., Michetti A.M., 2012. Ground effects induced by the 2012 seismic sequence in Emilia: implications for seismic hazard assessment in the Po Plain. Annals of Geophysics, 55, 697-703.
Vittori, E., di Manna, P., Blumetti, A.M., Comerci, V., Guerrieri, L., Esposito, E., Michetti, A.M., Porfido, S., Piccardi, L., Roberts, G.P., Berlusconi, A., Livio, F., Sileo, G., Wilkinson, M., McCaffrey, K.J.W., Phillips, R.J., Cowie, P.A., 2011. Surface faulting of the 6 April 2009 mw 6.3 L'Aquila earthquake in central Italy. Bulletin of the Seismological Society of America, 101, 4, 1507-1530.
Piccardi L., 2005. Paleoseismic evidence of legendary earthquakes: the apparition of Archangel Michael at Monte Sant'Angelo (Italy). Tectonophysics, 408, 113-128.
Piccardi L., 2000. Active faulting at Delphi: seismotectonic remarks and a hypothesis for the geological environment of a myth. Geology, 28, 7, 651-654.
Piccardi L., Gaudemer Y., Tapponnier P., Boccaletti M., 1999: Active oblique extension in the central Apennines (Italy): evidence from the Fucino basin. Geophysical Journal International, 139, 2, 499-530.