Andrea Dini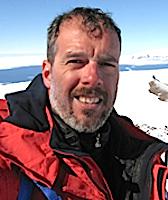 EDUCATION
Present (from 2008): Researcher, Consiglio Nazionale delle Ricerche - Istituto Geoscienze e Georisorse.
1999-2008: Contract Researcher (art. 36, n.70/75) at IGG-CNR Pisa.
1998-1999: Geological Consultant for "Sardinia Gold Mining S.p.A."
1997: PhD in Earth Science (Petrology of granite intrusions), University of Pisa.
1992: Master in Geological Science (Ore deposits), University of Pisa.
SCIENTIFIC ACTIVITY
Investigation of magmatic-hydrothermal processes in orogenic and post-collisional settings, with special focus on granite-related hydrothermal deposits, pegmatites and geothermal systems. Research activity is mainly concentrated in the Mediterranean Region, but some collaboration was developed on Antarctica, Brazil, Perù Madagascar, Atlantic/Arctic Ocean areas.
The main tasks are: 1) 3D geometry of intrusive and hydrothermal bodies; 2) petrographic and geochemical-isotopic characterization (major, traces, Sr-Nd-Pb-B-O-H isotopes) of magmatic and hydrothermal rocks; 3) isotope dating (U-Pb and Rb-Sr) of magmatic and hydrothermal minerals; 4) detailed study of magmatic and hydrothermal minerals (tourmaline, biotite, ilvaite, hedenbergite, sulphides, etc.). Additional collaborations are active on the following subjects: 1) serpentinization and carbonation of ultramafic rocks in oceanic and ophiolitic settings; 2) geochemical and isotopic (Pb) tracing of materials/artifacts from Classic-Medieval-Renaissance archaeological sites.
Author of ca. 70 scientific papers; mostly on peer-reviewed International journals. H-index: 17 (fonte ISI WEB of Knowledge e Scopus); 19 (Google Scholar).
AWARDS AND INVITATIONS
2014-2015: Visiting Professor at the "Department de Sciences de la Terre e de l'Environnement" Universitè de Geneve (Svizzera).
2007: Attribution of "Johndino Nogara" prize (Italian Society of Mineralogy and Petrology) for contributions in the field of ore deposits.
PROFESSIONAL ACTIVITY
2015-2018: WorkPackage leader in the frame of the Horizon2020 European Project "DESCRAMBLE" (Drilling in dEep, Super-CRitical AMBients of continentaL Europe; 640573, Topic LCE-02-2014).
2015: Italian PI of the "Fondation Herbette" project (Lausanne University, Switzerland): "Ion Microprobe analysis of boron, oxygen and hydrogen isotopes in hydrothermal systems" carried out at Lausanne University.
2014-2015: Italian PI of the SNF project (Swiss National Science Foundation; IZK0Z2_155752): " Timescales of crustal magmatism and associated hydrothermal systems in Tuscany and implications for the geothermal field of Larderello" carried out at Geneve University.
2008-2010: PI of the IGG-CNR local unit of the PRIN-MIUR project: "Flusso di magma e crescita delle intrusioni ignee tabulari" (2008PN8Z9K_002; Coordinator prof. Sergio Rocchi, Università di Pisa)
2001-2003: PI of the CNR-Agenzia 2000_Giovani project: "Interdisciplinary study (B, O, Sr, Nd isotopes, fluid inclusions, mineral chemistry) of tourmaline in Tertiary granitic rocks from Tuscany (Italy): implication for crustal processes and geochemical behaviour of boron" (CNRG00C4AE)
Participant of the following IGG-CNR and PNRA projects: 1) The Ritmare Flagship Project (2012-2014): Planning of the Deep Marine Environment and the Open Sea, supported by the Ministry of Education, Universities and Research; 2) IMAGE project (2013-2016): Integrated Methods for Advanced Geothermal Exploration; European 7thFP project; 3) XXI Italian Expedition in Antarctica (winter 2005-2006).
Responsible for the Mineral Separation Laboratory – Rock Repository at IGG-CNR Pisa.
Peer review service for International Journals (ISI) and International Research Foundation Agencies, SNF (Switzerland), NSF (USA) e GACR (Czech Rep).
Co-supervisor for 19 Master Theses and 3 PhD Theses ( Earth Science at Pisa and Florence Universities).
Co-supervisor for 6 Master Theses and 1 PhD Thesis at Geneve University.
Organizer of several popular science initiatives (exhibitions, conferences, articles, educational labs) in the field of mineralogy and mineral deposits.
SELECTED PUBLICATIONS
Vezzoni S., Dini A. and Rocchi S. (2016) Reverse telescoping in a distal skarn system (Campiglia Marittima, Italy). Ore Geology Review, 77, 176-193. doi: 10.1016/j.oregeorev.2016.03.001.
Farina F., Dini A., Rocchi S. and Stevens G. (2014) Extreme mineral-scale Sr isotope heterogeneity in granites by disequilibrium melting of the crust. Earth and Planetary Science Letters, 399,103–115. doi: 10.1016/j.epsl.2014.05.018.
Benvenuti M., Dini A., D'Orazio M., Chiarantini L., Corretti A. and Costagliola P. (2013) The tungsten and tin signature of iron ores from Elba Island (Italy): a tool for provenance studies of iron production in the Mediterranean region. Archaeometry, 55, 479–506. doi: 10.1111/j.1475-4754.2012.00692.x.
Dini A., Mazzarini F., Musumeci G. and Rocchi S. (2008) Multiple hydro-fracturing by boron-rich fluids in the Late Miocene contact aureole of eastern Elba Island (Tuscany, Italy). Terra Nova, 2011, 103-114. doi: 10.1111/j.1365-3121.2008.00823.x.
Dini A., Gianelli G., Puxeddu M. and Ruggieri G., (2005). Origin and evolution of Pliocene–Pleistocene granites from the Larderello geothermal field (Tuscan Magmatic Province, Italy). Lithos, 20, 318–326. doi:10.1016/j.lithos.2004.09.002.