Gianfranco Di Vincenzo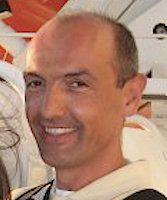 EDUCATION
1986, Master in Geological Sciences at Università degli Studi di Siena.
1989 – 1992, PhD project in Earth Sciences at Università degli Studi di Siena (1993 Degree of Doctor of Philosophy in Earth Sciences).
1992 – 1995 research assistant at the Dipartimento di Scienze della Terra, Università degli Studi di Siena, within the Programma Nazionale di Ricerche in Antartide (PNRA).
1992 – 1998, visiting fellow at the Laboratory of Isotope Geology of the Faculteit der Aardwetenschappen, Vrije Universiteit of Amsterdam (The Netherlands), 18 months.
1995 – 1996, 2-year post-doctoral fellowship funded by PNRA.
September 1996, Researcher (permanent position) at the Istituto di Geoscienze e Georisorse, CNR (IGG-CNR).
January 2007 – present, Senior researcher at IGG-CNR.
SCIENTIFIC ACTIVITY
Expertise: isotope geochemistry and geochronology; igneous and metamorphic petrology; application of 40Ar–39Ar geochronology to different geological problems; operating procedures, maintenance and development, in noble gas mass spectrometry laboratory, with special reference to 40Ar–39Ar geochronology and to laser extraction techniques.
Main scientific interests: geochronology of ductile (mylonites) and brittle (pseudotachylytes) faults; reactivation of faults and shear zones; reconstruction of the evolution of the Antarctic climate-cryosphere system during the Neogene-Quaternary; relationship between tectono-metamorphic evolution and isotope records in metamorphic minerals; P-T-time paths of HP–UHP rocks; provenance studies of siliciclastic sediments; high-precision dating of impact glasses (tektites) and Quaternary volcanic rocks.
Field work in Antarctica during the 1993–94, 1994–95, 2000–01, 2005–06 expeditions.
Author of 70 scientific publications, mostly peer reviewed. h-index (ISI WEB of Knowledge): 19.
PROFESSIONAL ACTIVITY
1999 – 2015, responsible of Research Groups within the PNRA research projects: 1999/4.11; 2002/4.1; 2002/4.6; 2004/4.01; 2004/4.6, 2013/B2.07, 2013/AZ2.08. Principal Investigator of the PNRA project 2010/A2.012.
Since 2002, responsible of the 40Ar–39Ar laboratory at IGG-CNR.
October 2005 – June 2010, member of the off-ice (chronostratigraphy) team for the international SMS ANDRILL Project and responsible of the Italian research group of Geochronology and Volcanology.
March 2015, elected member of the IGG-CNR advisory committee.
SELECTED PUBLICATIONS
Di Vincenzo G., Grande A., Rossetti F. (2014). Paleozoic siliciclastic rocks from northern Victoria Land (Antarctica): provenance, timing of deformation and implications for the Antarctica/Australia connection. Geological Society of America Bulletin, 126, 1416–1438.
Di Vincenzo G., Rossetti F., Viti C., Balsamo F. (2013) Constraining the timing of fault reactivation: Eocene coseismic slip along a Late Ordovician ductile shear zone (northern Victoria Land, Antarctica). Geological Society of America Bulletin, 125, 609–624.
Di Vincenzo G., Skála R. (2009) 40Ar–39Ar laser dating of tektites from the Cheb Basin (Czech Republic): evidence for coevality with moldavites and influence of the dating standard on the age of the Ries impact. Geochimica et Cosmochimica Acta, 73, 493–513.
Di Vincenzo G., F. Talarico F., Kleinschmidt G. (2007). An 40Ar–39Ar investigation of the Mertz Glacier area (George V Land, Antarctica): implications for the Ross Orogen – East Antarctic Craton relationship and Gondwana reconstructions. Precambrian Research, 152, 93–118.
Di Vincenzo G., Tonarini S., Lombardo B., Castelli D., Ottolini L. (2006). Comparison of 40Ar-39Ar and Rb-Sr data on phengites from the UHP Brossasco-Isasca Unit (Dora Maira Massif, Italy): implications for dating white mica. Journal of Petrology, 47, 1439–1465.