Adele Manzella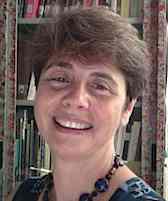 EDUCATION
1985 graduated cum laude in Earth Sciences at the University of Padua, with a thesis in Geophysics.
1985-1986 professional course at the International School of Geothermics, Pisa, with a thesis regarding applications of geophysical methods to geothermal exploration.
1986-1987 graduate courses in geophysics at the University of California, Berkeley, with a Fulbright and an exchange scholarships.
Professional Qualification (Geology), University of Padua, 1988
1988-1989 Research activity at OGS (Experimental Geophysics Observatory) in Trieste with a research regarding pseudospectral modeling of seismic waves.
1989 three-months contract at International Institute for Geothermal Research (IIRG) of National Research Council (CNR), in Pisa, with a preliminary study on applications of magnetotelluric method to geothermal exploration.
2003-act. Senior Researcher at National Research Council
SCIENTIFIC ACTIVITY
Worked in seismology, numerical modeling for seismic and electromagnetism.
Geothermal exploration as a geophysicist, conducting magnetotelluric surveys and theoretical investigation of geothermal systems in Italy, Tibet, Iceland. Integration of different geothermal exploration methods for reservoir characterization.
Magnetotelluric surveys in tectonically active regions of Italy (CROP Alpi Centrali, CROP03, CROP18, Vesuvius and Etna volcanoes), Czech Republic (Bohemia).
Groundwater exploration using electromagnetic methods in Tuscany and Sardinia.
Integrated geothermal assessment projects, feasibility studies for geothermal plants
Social aspects of geothermal development
AWARDS AND INVITATIONS
2006 G.W. Hohmann Award, for "outstanding application of electrical and electromagnetic methods to the study of geothermal resources". The award has been offered by G.W. Hohmann Memorial Trust for Teaching and Research in Applied Electrical Geophysics, SEG Foundation.
International Committee Member (International Geothermal Association (IGA) Information Committee, Geothermal Energy Council (EGEC) Advisory working group on Policy, SET PLAN Energy (Geothermal) Education&Training Assessment Report Committee, ICS NETWORK OF CENTRES OF EXCELLENCE-UNIDO for the topic "Geothermal Energy")
ORGANIZATIONAL AND MANAGING EXPERIENCES
Coordinator of the CNR Projects "Atlante Geotermico delle Regioni del Mezzogiorno" and VIGOR for the of geothermal assessment of southern Italy
Coordination of CNR team, WP leader in 5 international Projects (EU-FP6, EU-FP7, Horizon2020)
Scientific responsible for CNR of projects for industry (ENI/SAIPEM, ENEL, Geotermica Italiana) and public administration (Regione Toscana)
Partner of national and international projects
Coordinator of CNR geothermal activities and projects ("Commessa")
Representative of CNR at international bodies (EERA-JPGE European Energy Research Alliance joint Program on Geothermal Energy, IGA, EGEC)
Coordinator of the scientific comunity della Piattaforma Geotermica Italiana, chair Assoknowledge e coordinata da INGV, 2011
Magnetotelluric Laboratory Leader of CNR-IGG since 2000
Organizer of national and international workshops, conferences and scientific sessions
Reviewer for international journals
Teacher of geothermal courses in Italy and abroad
Tutor of PhD and Master Theses
Tutor of of national and international scholarship students
Scientific coordinator of CNR Post-Doc activity.
SELECTED PUBLICATIONS
Marini L., Manzella A.: Possible seismic signature of the α- β quartz transition in the lithosphere of Southern Tuscany. J. Volc. Geoth. Res., 148, 81– 97, 2005.
Manzella A., Zaja A.: Volcanic structure of the southern sector of Mt. Etna after the 2001 and 2002 eruptions defined by magnetotelluric measurements. Bulletin of Volcanology 69, No.1, 41-50, 2006.Spichak V., Manzella A.: Electromagnetic sounding of geothermal zones. Journal of Applied Geophysics, 68, 459–478, 2009.
Trumpy E., Bertani R., Manzella A., Sanders M. The web-oriented framework of the world geothermal production database: a business intelligence platform for wide data distribution and analysis. Renewable Energy, 74, 379-389, 2015
Pellizzone A., Allansdottir A., De Franco R., Muttoni G., Manzella A. Exploring public engagement with geothermal energy issues in southern Italy. Energy Policy, 85, 1–11, 2015.
Trumpy E., Donato A., Gianelli G., Gola G., Minissale A., Montanari D., Santilano A., Manzella A. Data Integration and favourability maps for exploring geothermal systems in Sicily, southern Italy. Geothermics, 56 (2015) 1–16.