Assunta Donato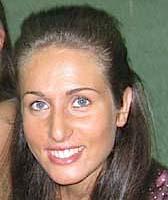 EDUCATION
2005 High school leaving qualification in classical studies
2009 Bachelor's Degree in Analysis and Management of Natural and Anthropic Risks, University of Messina vote 110/110 cum laude
2011 Master's Degree in Geological Sciences and Technologies, University of Pisa, vote 110/110 cum laude
2017 Ph.D. in Earth Sciences, University of Florence
2013 - 2021 Research Fellow at Institute of Geosciences and Earth Resources (CNR-IGG), Pisa
2022 - present Researcher at Institute of Geosciences and Earth Resources (CNR-IGG), Pisa
SCIENTIFIC ACTIVITY
Geochemical survey aimed at identifying and characterizing the geothermal resources
Regulatory framework and authorization processes in geothermal fields
Environmental impact related to exploitation of geothermal resources
PROFESSIONAL ACTIVITY
Geochemical survey (sampling and analyses on water and gas) aimed at characterizing the geothermal resources (Ph.D. program);
Collection and organization of geochemical data for the upgrade and extension of the National Geothermal Database, managed by the Italian National Research Council;
Mapping the geochemical parameters for identifying potentially geothermal areas, using spatial analyst tools in GIS environment;
Report on geothermal laws and regulations (including permitting and administrative processes);
Contribution to 3D geological modeling using software PETREL;
Contribution to geothermal potential and favourability mapping;
Contribution to creating, publishing and updating the content of project websites (VIGOR and Geothermal Atlas projects)
Contribution for compiling reports about regulatory, social and environmental aspects related to geothermal energy (Geothermal ERA-NET and GeoElec projects);
Nextdata Project Manager;
Dissemination: organizations of seminars and workshops.
SELECTED PUBBLICATIONS
A. Donato, F. Tassi, G. Pecoraino, A. Manzella, O. Vaselli, E. Gagliano Candela, A. Santilano, L. La Pica, C. Scaletta, F. Capecchiacci, 2021. Geochemical investigations of the geothermal systems from the Island of Sicily (southern Italy). Geothermics 95 (2021) 102120.
A. Minissale, A. Donato, M. Procesi, L. Pizzino, S. Giammanco, 2019. Systematic review of geochemical data from thermal springs, gas vents and fumaroles of Southern Italy for geothermal favourability mapping. Earth-Science Reviews, 188 (2019) Pages 514–535.
A. Manzella. R. Bonciani, A. Allansdottir, S. Botteghi, A Donato, S. Giamberini, A. Lenzi, M. Paci, A. Pellizzone, D. Scrocca, 2018. Environmental and social aspects of geothermal energy in Italy. Geothermics 72 (2018) Pages 232–248.
A. Santilano, A. Donato, A. Galgaro, D. Montanari, A. Menghini, A. Viezzoli, E. Di Sipio, E. Destro, A. Manzella, 2016. An integrated 3D approach to assess the geothermal heat-exchange potential: The case study of western Sicily (southern Italy). Renewable Energy, 97 (2016) Pages 611-624.
E. Trumpy, S. Botteghi, F. Caiozzi, A. Donato, G. Gola, D. Montanari, M.P.D. Pluymaekers, A. Santilano, J.D. van Wees, A. Manzella, 2016. A new systematic approach applied in southern Italy. Energy 103 (2016) Pages 167-181.
E. Trumpy, A. Donato, G. Gianelli, G. Gola, A. Minissale, D. Montanari, A. Santilano, A. Manzella, 2015. Data integration and favourability maps for exploring geothermal systems in Sicily, southern Italy. Geothermics, 56 (2015) Pages 1–16.