Luca Peruzzo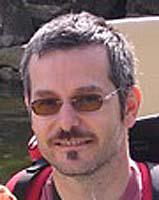 EDUCATION
2002: CNR Researcher, at Institute of Geosciences and Georesources.
1999-2002: University of Padova Research Activity Grant (University of Padova).
1998: Post-doctoral fellowship (University of Padova).
1994-97: PhD course in Earth Sciences (University of Padova).
1994: Geologist qualifying examination.
1991-93: CNR Fellowship.
1991: Degree in Geological Sciences (University of Padova).
SCIENTIFIC ACTIVITY
Characterisation of rock complexes belonging to crystalline basements both from Italy and other countries. Metapelites and metabasites from Southalpine and Austroalpine Basement of the Eastern Alps; low grade metapelites of Somalia; metagranites of Himalaya.
Study of natural (microcrystals, bone, etc.) and artificial materials (ceramics, drug-delivery systems, titanium implants, etc.) related to the human body, in normal and pathologic conditions. Research on the quality of the underground water in relation with the arsenic content. Analysis of airborne particulate.
Application of the SEM-EBSD technique to the study of the archaeometallurgic processes and identification of pigments and raw materials used in glasses and ceramics. Study of the degradation processes, chemical-physical, mineralogical and petrographic characterization of materials used in historic-monumental buildings.
Scanning Electron Microscopy (SEM)
Specialisation in some of the most recent analytical techniques: compositive X-Ray mapping, Orientation Contrast Imaging, Electron Backscattering Diffraction.
Geological Survey and Cartography
AWARDS AND INVITATIONS
1999: Fellowship (Accademia Nazionale dei Lincei and Royal Society) at the Earth Sciences Department, University of Liverpool.
PROFESSIONAL ACTIVITY
At the University of Padova, was/is teacher in several courses (Petrography, Laboratory of mineralogical-petrographic microscopy, etc.), is co-tutor of several degree thesis, teaches at the training course for SEM users, and teaches for different Courses of Degree on laboratory techniques.
Member of the Organizing Comittee and of the Scientific Board at the International Workshop "EMAS 2012".
Responsible of the "Rock Grinding an Mineral Separation Laboratory" of CNR-IGG-PD.
Responsible for CNR of the "Scanning Electron Microscopy Laboratory" of the Department of Geosciences (University of Padova).
SELECTED PUBLICATIONS
Secco M., Peruzzo L., Palasse L., Artioli G., Viani A., Gualtieri A.F. (2014) Crystal chemistry of clinker relics from aged cement composites. Journal of Applied Crystallography. 47, 1626–1637.
Carraro A., Fabbri P., Giaretta A., Peruzzo L., Tateo F., Tellini F. (2013) Arsenic anomaly in shallow groundwater of the Venetian plain (NE Italy). Environmental Earth Sciences. 70, 3067–3084.
Visonà D., Carosi R., Montomoli C., Tiepolo M. and Peruzzo L. (2012) Occurrence of Miocene andalusite leucogranite in Central-East Himalaya (Everest-Masang Kang Area): Finding of low-pressure melts in GHS. Lithos. 144-145, 194-208.
Peruzzo L., Fenzi F., Vigato P. A. (2011) Electron backscatter diffraction (EBSD): a new technique for the identification of pigments and raw materials in historic glasses and ceramics. Archaeometry. 53, 1, 178–193.
Oliviero F., Frallonardo P., Peruzzo L., Ramonda R., Sfriso P., Scanu A., Tauro L., Punzi L. (2008) - Identification of silicon dioxide crystals in synovial fluid from patients with osteoarthritis. Journal of Rheumatology. 35, 1092-5.