Marco Chiari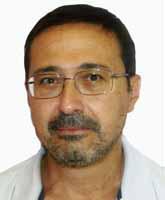 EDUCATION
Current: Researcher, Consiglio Nazionale delle Ricerche - Istituto Geoscienze e Georisorse.
2002: CNR grant (CNR/FNS 2001).
2002: D. in Earth Sciences (University of Parma).
1994-1997: CNR grants at the Centre for the Study of the Geology of the Apennines and the Peri- Mediterranean Chains.
1992: Laurea (MsC equivalent) in Geological Sciences (University of Florence).
RESEARCH ACTIVITY
Integrated stratigraphic researches on the Jurassic sequences in Southern Alps, Northern Apennines, Sicily and on the Cretaceous anoxic levels in the Umbro-Marche Apennines.
Radiolarian biostratigraphy of the sedimentary cover of the ophiolites in Alps, Northern Apennines, Central America and Carribean area.
Biostratigraphic studies of the Triassic and Jurassic oceanic and continental sequences in the Dinaric-Hellenic chain (Albania and Greece).
Taxonomic researches on Middle-Late Triassic, Jurassic and Cretaceous radiolarians
PROFESSIONAL ACTIVITY
Responsible for the CNR of the Radiolarians Laboratory of the Department of Earth Science of Florence.
Secretary of the INTERRAD association (International Association of Radiolarists).
Secretary of the Società Paleontologica Italiana.
Secretary of the Silicofossil Group of "The Micropaleontology Society".
Editor in Chief (with V. Bortolotti) for the proceedings of the "76° Riunione Estiva della Società Geologica Italiana". Memorie della Società Geologica Italiana, 1994 (48, 1-2).
Guest Editor of "Eclogae Geologicae Helvetiae - Swiss Journal of Geoscience" for the proceedings of the 32nd International Geological Congress, Florence, Italy. Swiss Journal of Geoscience, 2007 (100); 2008 (101).
Member of the Editorial board of the International journal Ofioliti.
Editor of the RADIOLARIA newsletter
CNR grant (Short Term Mobility 2005).
SELECTED PUBLICATIONS
Chiari M., Cobianchi M. and Picotti V. (2007). Integrated stratigraphy (radiolarians and calcareous nannofossils) of the Middle to Upper Jurassic Alpine radiolarites (Lombardian Basin, Italy): Constraints to their genetic interpretation. Palaeogeography, Palaeoclimatology, Palaeoecology, 249: 233-270.
Chiari M., Di Stefano P. and Parisi G. (2008). New stratigraphic data on the Middle-Late Jurassic biosiliceous sediments from the Sicanian basin, Western Sicily (Italy). Swiss J. Geosci., 101: 415-429.
Chiari M., Bortolotti M., Marcucci M., Photiades A., Principi G. and Saccani E. (2012). Radiolarian biostratigraphy and geochemistry of the Koziakas Massif ophiolites (Greece). Soc. géol. Fr., 183 (4): 287-306.
Bortolotti V., Chiari M., Göncüoglu M.C, Marcucci M., Principi G., Tekin U.K., Saccani E and Tassinari R. (2013) Age and Geochemistry of basalt-chert associations in the Ophiolites of the Izmir-Ankara Mélange east of Ankara, Turkey: preliminary data. Ofioliti, 38 (2): 157-173.
Chiari M., Baumgartner P.O., Bernoulli D., Bortolotti V., Marcucci M., Photiades A. and Principi G. (2013). Late Triassic, Early and Middle Jurassic Radiolaria from ferromanganese-chert 'nodules' (Angelokastron, Argolis, Greece): evidence for prolonged radiolarite sedimentation in the Maliac-Vardar Ocean. Facies, 59: 391-424.