Gianna Vivaldo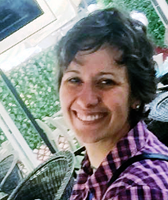 EDUCATION
2017 – now. Post-doctoral Fellow at IGG – Geosciences and Earth Resources Institute (Pisa, National Research Council of Italy). Research topic: Time series analysis of environmental, climatic and paleoclimatic data by spectral methodologies and complex networks theory
2014 – 2017. Post-doctoral Fellow at IMT School for Advanced Studies Lucca (Complex networks research unit). Research topic: Networks of networks in socio-economic and natural systems
2013 – 2014. Post-doctoral Fellow at INFN-TO (National Institute of Nuclear Physics, section of Turin). Medical physics field. Research topic: Implementation and characterization of medical phantoms, to be employed in hadrotherapy for treatment planning systems validation
2011 – 2013. Lagrange Fellowship by ISI Foundation (Institute for Scientific Interchange); CRT Foundation (Turin) co-funding. Partnerships: INFN-TO (National Institute of Nuclear Physics, section of Turin) & A.O.U. San Luigi Gonzaga (Orbassano, Turin). Research topic: Characterization of a neutron source obtained from photo-conversion of gamma radiation produced by in-hospital LINAC, in biological and medical fields
2009 – 2011. Post-doctoral Fellow at IFSI-INAF-TO (National Institute for Astrophysics, section of Turin).
Research topic: Study of cosmogenic radioisotopes in meteorites for the reconstruction of solar activity variation in the past: comparison with the measurements obtained from terrestrial archives, especially from marine sediments
2005 – 2008. Ph.D. in Fundamental and Applied Physics, and Astrophysics (XXI cycle), Turin University
2002 – 2004. Master's degree in Environmental and Biomedical Physics (cum laude), Turin University
1999 – 2002. Bachelor's degree in Physics (cum laude), Turin University
SCIENTIFIC ACTIVITY
Digital signal processing & Advanced spectral and statistical time-series analysis applied to geophysics, macroeconomics, biological systems, with both classical and advanced spectral methods (MEM, MTM, BT correlogram, WT, PCA, EEOF, SSA, M-SSA)
Complex networks theory applied to biology (plants taxonomy and classification on the basis of their seed dispersal and volatile organic compounds emissions); to socio-economic systems (distress propagation in the framework of financial contagion in networks of banks); and to online social networks (Facebook echo chamber dynamics; Twitter data as fingerprints of economic and social interactions)
Paleoclimatology & Geophysics: meteorites and cosmogenic radionuclides (gamma-ray spectroscopy with HPGe + NaI detectors); extreme events analysis (historical volcanic records); sea surface temperatures (SSTs) proxies (especially, foraminiferal d18O, d13C) from marine sediments samples (Mediterranean area)
Medical physics & Radiation dosimetry: hadrotherapy and BNCT (Boron Neutron Capture Therapy); treatment planning system (TPS) benchmarking and validation
AWARDS AND INVITATIONS
2013. Member of the International Committee at 7th YRBNCT Meeting, Granada (Spain)
2010. Best Presentation 2010 at VI SIF Congress (Sec IVa: Geophysics and Environmental Physics)
2010. Best Poster 2010 at LIV SAIt Congress
PROFESSIONAL ACTIVITY
2017 – now. Collaboration to EU H2020 Project ECOPOTENTIAL
2017 – now. Collaboration to the MIUR National Project of Interest NextData
2014 – 2017. Participation to EU FET Integrated Project MULTIPLEX nr. 317532
2014 – 2017. Collaboration to EU FET Open Project PLEASED nr. 296582
2013 – 2014. Participation to European Project FP7-ENVISION
2010 – 2011. Assistant Professor for the course of PHYSICS II (Turin University, Mathematics Dip. G. Peano)
2009 – 2010. Seminar/Lesson for the Second Year of Ph.D. in Economics and Complexity (Turin University & Real Collegio Carlo Alberto)
2008 – 2010. Assistant Professor for the course of TERRESTRIAL PHYSICS (Turin University, Physic Dip.)
2005 – 2008. Participation to European Commission's Project nr. 12975 (NEST) Extreme events: Causes and consequences (E2-C2).
SELECTED PUBLICATIONS
Vivaldo, G., Masi, E., Pandolfi, C., Mancuso, S., and Caldarelli, G. (2016). Networks of plants: how to measure similarity in vegetable species. Scientific Reports, 6:27077DOI: 10.1038/srep27077
Del Vicario, M., Vivaldo, G., Bessi A., Zollo, F., Scala, A., Caldarelli, G., and Quattrociocchi, W. (2016) Echo chambers: emotional contagion and group polarization on Facebook. Scientific Reports, 6:37825. DOI:10.1038/srep37825
Taricco, C., Alessio, S., Rubinetti, S., Mancuso, S., and Vivaldo, G. (2016) A foraminiferal δ18O record covering the last 2200 years, Scientific Data, 3:160042, doi: 10.1038/sdata.2016.42
Russo, G., Attili, A., Battistoni, G., Bertrand, D., Bourhaleb, F., Cappucci, F., Ciocca, M., Mairani, A., Milian, F., Molinelli, S., Morone, M., Muraro, S., Orts, T., Patera, V., Sala, P., Schmitt, E., Vivaldo, G., and Marchetto, F. (2016) A novel algorithm for the calculation of physical and biological irradiation quantities in scanned ion beam therapy: the beamlet superposition approach, Physics in Medicine and Biology, 61(1), 183–214
Sella, L., Vivaldo, G., Groth, A., and Ghil, M. (2016) Economic cycles and their synchronization: a comparison of cyclic modes in three European countries, Journal of Business Cycle Research, 12(1), 25 – 48; doi: 10.1007/s41549-016-0003-4