Marco Bonini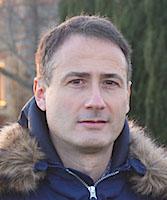 EDUCATION
2007-current: Senior Researcher, Consiglio Nazionale delle Ricerche.
2013- current: Contract Professor, University of Florence.
2001-2007: Researcher with open-ended contract, Consiglio Nazionale delle Ricerche.
1997-2001: Researcher with fixed-term contract, Consiglio Nazionale delle Ricerche.
1996-1997: Scholarship holder, Consiglio Nazionale delle Ricerche.
1995, October: Ph.D., "Tettonics and Structural Geology", University of Bologna.
1990, March: Laurea (MsC equivalent), Geological Sciences, University of Florence.
SCIENTIFIC ACTIVITY
Geometric and deformation characteristics of continental rifts, particularly the Ethiopian Rift and Baja California (Mexico), and subordinately the oceanic rifting in Iceland.
Geometric, kinematics and deformation characteristics of thrust systems and internal and foredeep sedimentary basins in Northern and Southern Apennines.
Analogue modeling of deformation processes of continental collision, continental extension, fault reactivation, magma emplacement, geomorphic processes.
Recent and active tectonics and main seismic sequences in the Northern Apennines.
Structural controls, and relationships with the geochemistry of fluids released at mud volcanoes in Northern Apennines, Azerbaijan, and Taiwan.
PROFESSIONAL ACTIVITY
Author or co-author of 80 international publications, 8 geological maps, 24 national publications and more than 90 abstracts/extended abstracts at congresses.
H Index: 25 (Isi Web of Knowledge), 26 (Scopus), 29 (Google Scholar).
Reviewer of ISI international journals (Geology, Journal of Geophysical Research, Tectonophysics, Journal of Structural Geology, Tectonics, ecc.).
Reviewer Editor of Frontiers in Earth Science; Editorial board member of Tectonophysics.
Reviewer of international and national research projects (NSF, USA; ACS-PRF, USA; ERC, Europa; SNSF, Switzerland; ISF, Israel; MIUR, Italy).
Responsible of national research projects, operative units, campaigns of geological field surveys, and international bilateral projects.
Participant in operative units of several national and international projects.
Responsible since 1998 of the Tectonic Modelling Laboratory of the Istituto di Geoscienze e Georisorse, Consiglio Nazionale delle Ricerche.
Co-supervisor of 7 PhD thesis at Firenze and Pisa Universities; PhD and Master's Thesis committee member for national institutions.
Didactic activity in numerous national and international institutions.
SELECTED PUBLICATIONS
Bonini M., 2006. Detachment folding–related Miocene submarine slope instability in the Romagna Apennines (Italy). Journal of Geophysical Research 111, B01404; doi:10.1029/2004JB003552.
Bonini M., 2007. Deformation patterns and structural vergence in brittle–ductile thrust wedges: An additional analogue modelling perspective. Journal of Structural Geology 29, 141-158.
Bonini M., 2008. Elliptical mud volcano caldera as stress indicator in an active compressional setting (Nirano, Pede-Apennine margin, northern Italy). Geology 36, 131-134; doi:10.1130/G24158A.1.
Bonini, M., 2012. Mud volcanoes: Indicators of stress orientation and tectonic controls. Earth-Science Reviews 115, 121–152; http://dx.doi.org/10.1016/j.earscirev.2012.09.002.
Bonini, M., 2013. Fluid seepage variability across the external Northern Apennines (Italy): Structural controls with seismotectonic and geodynamic implications. Tectonophysics 590, 151–174.