Training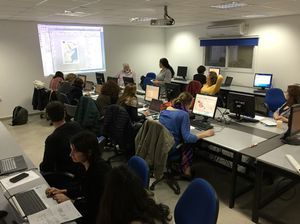 The Institute of Geosciences and Earth Resources of CNR (CNR-IGG), parallel to its own research activities, is involved in ongoing training and scientific dissemination activities. IGG hosts a significant number of university students and young Italian and European graduates for internship and stages, graduate and doctoral dissertations, supported also through the CNR scholarship grant programs.
IGG promotes initiatives and participates in activities, such as Marie Curie or DIPLOMAzia projects, aimed at training and the mobility of young graduates and/or Italian and foreign researchers.
As part of the collaborations with the University Departments of some of the major faculties of Mathematical, Physical and Natural Sciences, several IGG researchers carry out external teaching activities holding university classes or lecturing in graduate, doctoral and master courses.
The institute promotes and organizes several winter and summer schools, addressed to university students, graduate and PhD, on the specific themes of interest of the Institute (eg. Geothermal energy, mineralogy, geochemistry, hydrogeology, geodynamics, planetary geology, etc.) where the IGG researchers has skills and experience.
IGG researchers carry on a continuous scientific dissemination activity. They are active part of the AREAPERTA (http://areaperta.pi.cnr.it) scientific initiative promoted by the Area della Ricerca of Pisa, both in the organizing committee and as speakers, and in the Centroscienza association in Torino. They also participate in numerous external scientific dissemination initiatives in primary and secondary schools and in science café open to the public, as well as in the cycle of public meetings organized by the Focus magazine. They are actively involved in the European Researchers' Night (BRIGHT project). They participated in the past in the Festival della Scienza in Genova as well as in television programs devoted to scientific dissemination.