Marco Doveri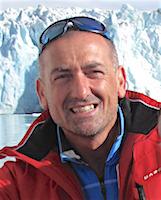 EDUCATION
2000: Degree in geology (University of Pisa). Thesis in Hydrogeology and Hydro-geochemistry;
2004: PhD in earth sciences (University of Pisa). Thesis in Hydrogeology and Hydro-geochemistry.
SCIENTIFIC ACTIVITY
Since 2008 he works as Researcher at the Institute of Geosciences and Earth Resources (IGG)-Pisa (National Research Council of Italy).
Most research activities are dedicated to Hydrogeological and Hydro-geochemical studies, which are chiefly carried out on groundwater systems. These activities concern both environmental and geothermal studies. Groundwater systems sustainability is also faced in respect to global changes.
He promotes and coordinates studies of the multidisciplinary type, in which geological, geophysical, hydrogeological, geochemical and isotopic tools are involved.
PROFESSIONAL ACTIVITY
Role of responsibility for the IGG Research Line "Aquifer Systems: Sustainability and Global Change".
Role of Scientific Responsibility or Thematic Coordinator for several projects, for example:

NEXTDATA (National project of Interest) - Development of archives and tools for retrieval, storage, access and diffusion of environmental and climate data from mountain and marine areas - Responsible for the WP 1.2: Water resources in mountainous and foothill areas;

AIT Project - Predictive monitoring system of groundwater quantities based on weather, climate and hydrogeological forecasts;

MORESCO Project - Hydrogeological, chemical and isotopic study of the Moresco drinking-springs (Valdicastello Carducci, Lucca, Tuscany);

CIS Project - Groundwater Bodies and water resource. Study of regional aquifer systems in Tuscany;

PRATO Project - Hydrodynamic, Physical-Chemical and Isotopic monitoring of the Acquifer of the Prato area, and study of the evolution of organic contaminants under hydrodynamic stress-tests;

Project "WATER PATHS OF THE PIANOSA ISLAND";

Arctic researches: ISMOGLAC Project - ISotopic and physical-chemical MOnitoring of GLACial drainages and sea water in the Ny-Ålesund area (Svalbard);

VIGOR Project -Evaluation of the Geothermal Potential of the southern region of Italy;

Industry 2015 Project "ACQUASENSE" - Innovative Monitoring System for Drinkable Water;

Head of the Laboratory of Experimental and Numerical Hydrogeology:

Field and laboratory experimental surveys on water flow and solute transport, by means of piezometric surveys, hydraulic tests (slug, pumping and injection tests), tracer tests, monitoring of water head, electrical conductivity and temperature, water sampling for chemical and isotopic analyses;
Flow and transport numerical modelling;

Author and co-author for more than 50 papers.
Reviewer of Hydrogeology and Environment journals: Science of the Total Environment; Hydrogeology Journal; Isotopes in Environmental & Health Studies; Journal of Hydrology: Regional Studies; Italian Journal of Groundwater;
From 2006/2007 to 2010/2011 academic years, Contract Professor of Applied Hydrogeology for the Environmental Sciences Course (University of di Pisa);
Advisor/referee for more than 20 Theses (Degree/PhD) of Hydrogeology-Hydrogeochemistry (University of Pisa).
SELECTED PUBLICATIONS
DOVERI M., MENICHINI M., SCOZZARI A., 2016. Protection of groundwater resources: Worldwide regulations and scientific approaches. Handbook of Environmental Chemistry-Springer, 40, pp. 13-30;
EL MEZOURY L., EL MANSOURI B., KABBAJ S., SCOZZARI S., DOVERI M., KILI M. & MENICHINI M. 2015. Numerical modelling of the seasonal variation of the groundwater quality in the aquifer Magra River, Italy. La Houille Blanche, 2, 25-31.
DOVERI M., MUSSI M. 2014. Water isotopes as environmental tracers for conceptual understanding of groundwater flow: An application for fractured aquifer systems in the "Scansano-Magliano in Toscana" area (Southern Tuscany, Italy). Water, v. 6, 2255 - 2277.
GRASSI S., DOVERI M., CORTECCI G., AMADORI M., 2011. Hydrogeological study of the intensely exploited aquifer of the Santa Croce leather-producing district, Tuscany (central Italy). Hydrogeology Journal, 19 (2011), 671-684
DOVERI M., LELLI M., MARINI L., RACO B., 2010. Revision, calibration, and application of the volume method to evaluate the geothermal potential of some recent volcanic areas of Latium (Italy). Geothermics, 39 (2010), 260-269.