Arturo Raspini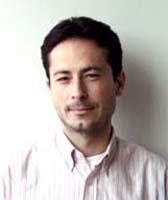 EDUCATION
1990: Laurea, Geological Sciences, Universita' "Federico II" di Napoli.
1996: D., Sedimentology.
RESEARCH INTERESTS
Carbonate sedimentology and stratigraphy; microfacies analysis and high-resolution sequence stratigraphy linked with cyclostratigraphy. Isotope stratigraphy (∂13C e ∂18O). The record of oceanic anoxic events in Mesozoic carbonate platforms.
Stratigraphic framework of Late Quaternary shelf deposits. Depositional and hydrodynamic processes induced by pyroclastic mass flows and debris avalanches entering the sea and related impact on the coastal marine environment.
SCIENTIFIC ACTIVITY
1995: Visiting Scientist, University of North Carolina (Chapel Hill, USA) and Bahamian Field Station (San Salvador, Bahamas).
1997-1999: Postdoctoral fellowship, Universita' "Federico II" di Napoli.
1998-1999: Visiting Researcher, University of South Carolina (Columbia, SC, USA).
2001: Research fellowship: Research Institute "Geomare Sud", CNR,
2001: Researcher, National Research Council of Italy (CNR).
AWARDS AND INVITATIONS
PROFESSIONAL ACTIVITY
1996/1997: Consultant geologist, Research Institute "Geomare Sud", CNR,
1998: Consultant geologist for the R.C.G. Inc. (Integrated Reservoir Characterization Group, USA) to the Saudi Arabian Oil Company (Saudi Aramco) in Dhahran, Saudi Arabia.
2000: Professional collaborator: CARG Project (Sheets 465 Procida, 466 Sorrento and 467 Salerno Research Institute "Geomare Sud", CNR,
SELECTED PUBLICATIONS
Milia A., Raspini A. & Torrente M.M. (2007) The dark nature of Somma-Vesuvius volcano: evidence from the ~5 ka B.P. Avellino eruption. Quaternary International, 173–174, 57–66. doi:10.1016/j.quaint.2007.03.001.
Milia A., Molisso F., Raspini A., Sacchi M., Torrente M.M. (2008) Syneruptive features and sedimentary processes associated to pyroclastic flows entering the sea: the AD 79 eruption of Vesuvius, Bay of Naples, Italy. Journal of the Geological Society, London, 165, 839-848; doi:10.1144/0016-76492007-110.
Raspini (2012) Shallow water carbonate platforms (Late Aptian-Early Albian, Southern Apennines) in the context of supraregional to global changes: re-appraisal of palaeoecological events as reflectors of carbonate factory response. Solid Earth, 3, 225-249, doi:10.5194/se-3-225-2012.
Graziano R., Raspini A. & Spalluto L. (2013) High-resolution δ13C stratigraphy through the Selli Oceanic Anoxic Event (OAE1a) in the Apulia carbonate platform: the Borgo Celano section (western Gargano Promontory, Southern Italy). Italian Journal of Geosciences, 132, n. 3, 477-496, doi: 10.3301/IJG.2013.16.
Graziano R., Raspini A. (2015) Long- and short-term hydroclimatic variabilities in the Aptian Tethys: clues from the orbital chronostratigraphy of evaporite-rich beds in the Apennine carbonate platform (Mt. Faito, southern Italy). Palaeogeography, Palaeoclimatology, Palaeoecology, 418, 319-343, dx.dorg/10.1016/j.palaeo.2014.11.021.